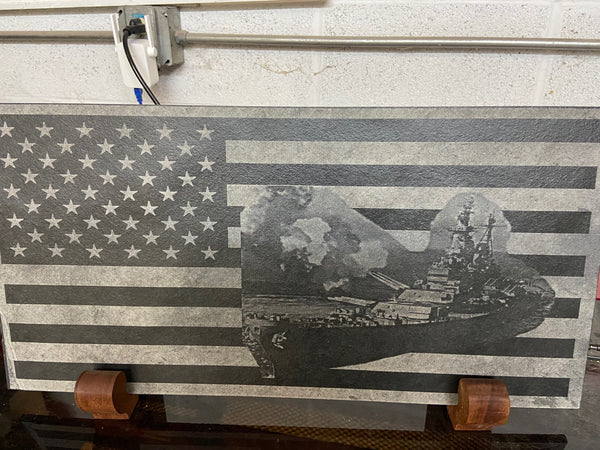 Laser engraved 24 inch x 12 inch black slate with the USS Missouri battleship on the US flag. Comes with stand in ash, cherry, maple, mahogany, oak or walnut. Also, can be fully framed at additional $200.
USS
 

MISSOURI

 

(BB-63)

Built in the midst of World War II in the Brooklyn Navy Yard, USS Missouri (BB 63) is the youngest of her other Iowa-class sisters, following USS Iowa (BB 61), USS New Jersey (BB 62), and USS Wisconsin (BB 64). Like her sisters, she was designed to be a fast battleship: a warship that balanced firepower and armor without sacrificing speed. Missouri's 887'3" (270.4m) length accommodated four large engines with 212,000 shaft horsepower, allowing the battleship to hit speeds in excess of 33 knots, a significant improvement from the 27 knots of the previous class of battleship, the South Dakota class, and faster than the 26-knot capability of Japanese ships of the time.

USS Missouri is also the third US Navy ship to be named after the Show Me state. The very first USS Missouri was a frigate built in the New York Navy Yard during the Age of Sail in 1841. This Missouri displaced 3,200 tons of water and was equipped with two 10-inch guns and eight 8-inch guns. Although she was powered by steam, should steam power fail her, the frigate was also equipped with three masts and 19,000 square feet of canvas. She was one of the first warships to cross the Atlantic Ocean on steam power alone. Unfortunately, soon after crossing the Atlantic Ocean, a fire broke out in Missouri's engine rooms and the ship was lost to Gibraltar's harbor floor in August 1843.

The second USS Missouri (BB 11) was built and launched in Newport News, Virginia on 28 December 1901. She was the second of the Maine-class battleships, displacing 13,500 tons of water when fully loaded and equipped with four 12-inch and sixteen 6-inch guns. In 1907, she circumnavigated the globe as part of the Great White Fleet, a 46,000-mile voyage of 16 US Atlantic Fleet battleships painted a peacetime white. She participated in World War I, joining the Atlantic Fleet as a training ship and operating out of Chesapeake Bay. She was decommissioned in 1919 and sold for scrap.

Today, a Virginia-class submarine, USS Missouri (SSN 780) is the fourth USS Missouri and carries the Missouri legacy into the future.
USS
 

Missouri

 

Enters the War

Construction on the battleship Missouri began on 6 January 1941 at the Brooklyn Navy Yard. She was launched on 29 January 1944 and officially commissioned on 11 June 1944. From there, she went on her Shakedown Cruise where the battleship and her crew tested their limits. USS Missouri would leave for the Pacific Theater from Pearl Harbor, Hawaii in early January 1945. On 16 February, she provided anti-aircraft defense for carriers conducting strikes against Tokyo. On 19 February, she supported the invasion of Iwo Jima. On 25 February, she participated in air strikes against Tokyo and on 1 March, against Okinawa. For much of March, she would provide anti-aircraft support, firing on Japanese aircraft that threatened the aircraft carriers around her (then Task Group 58.4). On 24 March, she joined USS New Jersey and USS Wisconsin for the shore bombardment of Okinawa. She would bombard Okinawa's shores for the invasion beginning on 1 April. 
Kamikaze Attacks
On 11 April at 2:43 PM, a kamikaze aircraft glazed Missouri on her starboard side a little below the level of the main deck. In the crash, part of the plane was thrown onto the main deck with the rest of the wreckage falling into the water. One of the aircraft's machine gun was found impaled on a 40mm gun. The pilot's body was found on the main deck and given a military burial the next day at the orders of Captain William M. Callaghan. Chaplain Roland Faulk conducted the funeral, committing the pilot's body to the deep. 
16 April would bring more kamikaze attacks. One kamikaze aircraft crashed in the battleship's wake as it flew toward the battleship's stern, littering the fantail with metal and injuring two sailors: Seaman Alfonse J. Palermo and Seaman D. J. Guiliano. 
From March to May, the crew of USS Missouri fired upon 16 enemy aircraft, claiming for themselves 5 kills (with 1 probable kill) and 6 assists. On 18 May, the battleship became a flagship for Third Fleet and Admiral "Bull" Halsey. 
The End of the War
In July, the battleship joined Task Force 34 and aircraft carriers for more strikes against mainland Japan, bombarding the steel works at Muroran and Hokkaido and other industrial targets at Honshu. 
In August, the war was drawing to a close. Task Force 38, with Flagship Missouri at its heart, fended off a final assault of kamikaze aircraft on 9 August. On 15 August, Halsey received word of Japan's surrender. By 23 August, USS Missouri was confirmed as the surrender ship.
The Surrender Ceremony
On the teak decks of USS Missouri, WWII finally came to an end on 2 September 1945. The Surrender Ceremony, which formally brought an end to the bloodiest conflict in human history, lasted a mere 23 minutes. It began at 0902 with a brief opening speech by General Douglas MacArthur. In his speech, the General called for justice, tolerance, and rebuilding. After MacArthur's speech, Foreign Minister Mamoru Shigemitsu, representing the Emperor of Japan, signed the Instrument of Surrender. He was followed by the Chief of the Army General Staff, General Yoshijirō Umezu, who signed for the Japanese Army. After this, General MacArthur signed the Instrument of Surrender as the Supreme Allied Commander with 6 pens. Of these pens, he gave two to former POWs Lt. General Jonathan Wainwright and Lt. General Arthur E. Percival. Following MacArthur, other allied representatives followed in this order:
Fleet Admiral Chester W. Nimitz signed for the United States
General Xu Yongchang for the Republic of China
Admiral Sir Bruce Fraser for the United Kingdom
Lt. General Kuzma Derevyanko for the Union of Soviet Socialist Republics (USSR)
General Sir Thomas A. Blamey for the Commonwealth of Australia
Colonel Lawrence Moore Cosgrave for the Dominion of Canada
General Philippe Le Clerc for the Provisional Government of the French Republic
Lt. Admiral Conrad E. L. Helfrich for the Kingdom of the Netherlands
Air Vice Marshal Leonard M. Isitt for the Dominion of New Zealand
After the signing concluded, General MacArthur made a few concluding remarks and closed the proceedings. At 0923 on 2 September 1945, the war was officially over.
The Forgotten War (1950-1953)
Start of the Korean War
On 25 June 1950 the North Koreans crossed the 38th parallel set-in place after WWII and invaded South Korea en masse, beginning what would eventually be known as the Korean War. Due to the declaration by the UN and the close involvement of the US and Soviet in the government of both Koreas, this foreign conflict quickly embroiled multiple countries. Thus, when the North Koreans crossed the parallel to South Korea, the UN--and with that, the US--entered into the conflict as well.
USS
 

Missouri

 

Enters the Conflict

When North Korea invaded South Korea, the Navy's only active battleship was on a midshipman cruise, a hands-on at-sea summer training course for young officers. Missouri's midshipman crew completed their cruise and returned to Norfolk, VA to offload midshipman and stock up on ammunition, supplies, and crew. On 19 August 1950, USS Missouri departed for the Pacific and for war.

To prepare for war, USS Missouri underwent a minor facelift at Pearl Harbor shipyard. Some of her guns had been removed in the interwar years, so the Pearl Harbor shipyard replaced fourteen Oerlikon 20mm cannon mounts, added four Bofors 40mm gun mounts to empty gun tubs, and replaced one 40mm gun mount that had been damaged by a hurricane en route.

Her first day at war on 15 September, Missouri fired 52 16" projectiles, damaging two railroad bridges near Samchok with the aid of her helicopter spotters. The following days would be spent in much the same capacity by conducting shore bombardments along the coast, this time at Pohang, before returning to Japan for supplies.
THE BATTLE OF INCHON
Although she arrived at Inchon on 19 September, hurricanes and poor weather meant that Missouri arrived too late to support the Inchon landings that would lead to the recapture of Seoul but was able to fire shore bombardments that targeted enemy combatants on the road from Suwon to Seoul. 
In October, USS Missouri became a flagship for Vice Admiral Arthur D. Struble and Seventh Fleet. On 12 October, she bombed the Mitsubishi Iron Works, reportedly firing 96 rounds from her main battery in under an hour. On 13 October, she bombarded Tanchon. On 26 October, she supported the amphibious landing of Wonsan. The next day on 27 October, Bob Hope and Marilyn Maxwell celebrated Navy Day on board. Hope performed three times that day: once for the enlisted, once for the commissioned, and again for those who had missed the original performances. 
THE BATTLE OF CHOSIN RESERVOIR
UN forces had pushed North Korean forces back into North Korea beyond the 38th parallel, prompting intervention from Communist China & the Soviet Union in late October, which in turn drove UN forces south again. Battleship Missouri was at Hungnam where Marines were retreating from Chosin Reservoir in December, providing curtain fire for the evacuating Marines. To do so, she sailed with Task Group 90.8 under the leadership of Rear Admiral Roscoe Hillenkoetter, one of Missouri's former commanding officers.
From December 1950 to March 1951, the battleship continued to conduct shore bombardments of Korea's eastern coast and provided cover for aircraft carriers in Task Force 77. During that time, she bombarded Kosong, Kangnung, Tanchon, Songjin. On 3 February, her crew hosted South Korean President Syngman Rhee. On 2 March, Captain George C. Wright relieved Captain Irving T. Duke as commanding officer of the battleship. By the end of the month, USS Missouri was en route to Hawaii and the West Coast of America. Her first deployment in Korea had come to an end.
First Deployment Stats (September 1950 - March 1951)
| | |
| --- | --- |
| Ammunition Type | Number of Rounds Fired |
| 16-inch/50 Cal. Rounds | 2,895 rounds |
| 5-inch/38 Cal. Rounds | 8,043 rounds |
The Second Deployment
Battleship Missouri would not see war again until September 1952. By that point, all four completed Iowa-class battleships were brought back to the active fleet and had rotating deployments in Korea. Prior to her second deployment, the battleship underwent more work in the yard.  On 4 September, Captain Warner Edsall became commanding officer of USS Missouri, relieving Captain Sylvester. After that, Missouri headed back to Korea.
This time, USS Missouri would be the flagship for Seventh Fleet Admiral Joseph J. Clark. As with her first deployment, Missouri steamed again with Task Force 77 and conducted shore bombardments. Wonsan, Tanchon, Chongjin, Songjin, Chaho, Hamhung, Hungnam, Taedoli, and Kojo were among some of the cities that came under fire. On 20 November, the crew manned the rails again to welcome President Syngman Rhee on board. 
This pattern of providing cover for aircraft carriers and shore bombardments continued into 1953. On 5 March, this pattern was disrupted when a North Korean shore battery opened fire. This would be the first time the battleship had come under enemy fire during the Korean War. The ship came under fire again on 10 March. USS Missouri responded with 998 rounds fired that day from her 5-inch, the most prolific day for her 5-inch guns. On 25 March, the battleship bombarded targets near Kojo, firing 102 16-inch rounds and 61 5-inch rounds. This would be her final gunfire mission of the war. 
In July 1953, armistice was signed in Panmunjom, Korea. A line of demarcation kept North and South Korea divided.
Second Deployment Stats (September 1952 - March 1953)
| | |
| --- | --- |
| Ammunition Type | Number of Rounds Fired |
| 16-Inch/50 Cal. Guns | 3,861 |
| 5-Inch/38 Cal. Guns | 4,379 |
The Gulf War (1990-1991)
Before the War: Earnest Will
The battleship had been brought out of mothballs to be recommissioned in 1986. In 1986 and 1987, attacks on oil tankers going to and from Iran increased. As a result, USS Missouri was sent to the North Arabian Sea to escort Kuwaiti tankers now sailing under a U.S. flag. This was dubbed Operation Earnest Will. On 11-12 October, the battleship escorted her first convoy through the Gulf of Oman and the Strait of Hormuz into the Persian Gulf.
Operation Desert Shield/Operation Desert Storm
Operation Desert Shield was prompted by the invasion of Kuwait by Iraq on 2 August 1990. The operation was a buildup phase in which Coalition Forces--comprised of Kuwaiti, American, British, French, Saudi Arabian, and Egyptian troops--moved into the region to discourage Iraq from invading Saudi Arabia after invading Kuwait. On 29 November 1990, the UN passed Resolution 678: a deadline for Iraqi troops to evacuate Kuwait by 17 January 1991. That deadline passed with no withdrawal and the defensive Operation Desert Shield became combative Operation Desert Storm. 
Battleship Missouri arrived in the Middle East in the first few days of 1991. Her first accomplishment in the Persian Gulf was the disarming of a mine by her Explosive Ordnance Disposal (EOD) team on 9 January. She then spent the period between 8-15 January underway in the Persian Gulf conducting a variety of operations. On 17 January, USS Missouri fired her first Tomahawk missile aimed at Baghdad. The next day, she fired thirteen more. By 20 January, the battleship had fired a total of 28 missiles.
On 29 January, Iraqi forces took the coastal town of Kafji in Saudi Arabia. Battleship Missouri steamed there to ensure that reinforcements could not reach the Iraqi forces. On 3 February, the battleship fired her main battery in anger for the first time since the Korean War. She targeted concrete command-and-control bunkers as well as Iraqi artillery positions, firing 112 16" rounds between 5 to 7 February. The next week, Missouri fired 69 16-inch rounds during fire-support missions. This time, her targets were infantry battalions, a mechanized unit, an artillery battery, and a command bunker. 
Later in the month, she headed north towards Kuwait City, but before she could provide fire support, a mine-free lane six miles long and one thousand yards wide had to be created so the battleship could hit targets further inland. Her EOD team contributed to this effort, bringing their mine disarmament total to ten. She then bombarded Faylaka Island, which was under Iraqi control. 
On 24 February, Coalition forces began their ground war for Kuwait. The battleship provided fire support for ground troops. On 25 February, she feinted an amphibious assault on Kuwait. When a Silkworm missile seemed headed straight for the battleship, HMS Gloucester was there to fire two Sea Dart anti-air missiles to intercede. the first time an anti-air missile had successfully engaged and destroyed an enemy missile during combat at sea. In return, the battleship turned her 16-inch guns toward the Silkworm battery and destroyed her target. The land war by the Coalition forces proved a success and the Gulf War ended in a Coalition victory on 28 February 1991. 
Gulf War Stats
| | |
| --- | --- |
| Ammunition Type | Number of Rounds Fired |
| 16-in./50 cal. Guns | 759 rounds |
| Tomahawk Missiles | 28 missiles |