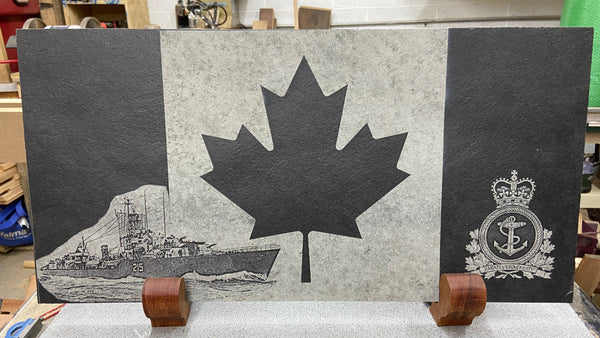 HMCS Haida on Canadian flag
The Tribal Class destroyer HMCS Haida was commissioned on August 30, 1943, at Newcastle-on-Tyne, United Kingdom. She was assigned to the British Home Fleet and during the first 3 months of her career made 2 trips to North Russia as a convoy escort.
In January 1944, she joined the 10th Flotilla at Plymouth, United Kingdom, and for the next 8 months was engaged in sweeps and patrols in the English Channel and in the Bay of Biscay. She was present on D Day. During this period, she took part in the sinking of several enemy vessels, including torpedo boat T-29 on April 26 off Ushant, France; T-27 on April 29 off Ushant; destroyer Z-32 on June 9 off Ile de Bas, France; submarine U-971 on June 24 off Land's End, England; and minesweeper M-486 on August 6 off Ile d'Yeu, France.
In September 1944, she sailed for Canada to refit at Halifax, Nova Scotia, returning to Plymouth in January 1945. In March, she returned to Scapa Flow, Scotland, and escorted another convoy to Murmansk, Russia, as well as carrying out strikes against German shipping off the Norwegian coast. She returned to Halifax on June 10 to begin refit, but with the surrender of Japan, this was cancelled and she was paid off on March 20, 1946.
She was re-commissioned at Halifax in 1947 and for the next 3 years took part in training and North Atlantic Treaty Organization (NATO) exercises, and then in July 1950 began extensive modernization. HMCS Haida was re-commissioned on March 11, 1952, to prepare for service in Korean waters. Between 1952 and 1954, she did 2 tours of duty in that theatre.
It was announced in 2001 that she was to be moved to Pier 9 in Hamilton, Ontario, adjacent to a site being developed by Parks Canada. HMCS Haida was positioned at her permanent berthing near the Naval Reserve Division HMCS Star in Hamilton on August 30, 2003
Laser engraved 24 inch x 12 inch black slate of the HMCS Haida, The Canadian Royal Navy emblem on the Canadian Flag. Comes with wooden stand of choice in ash, cherry, maple, mahogany, oak or walnut. Can be fully framed for additional cost of $200.