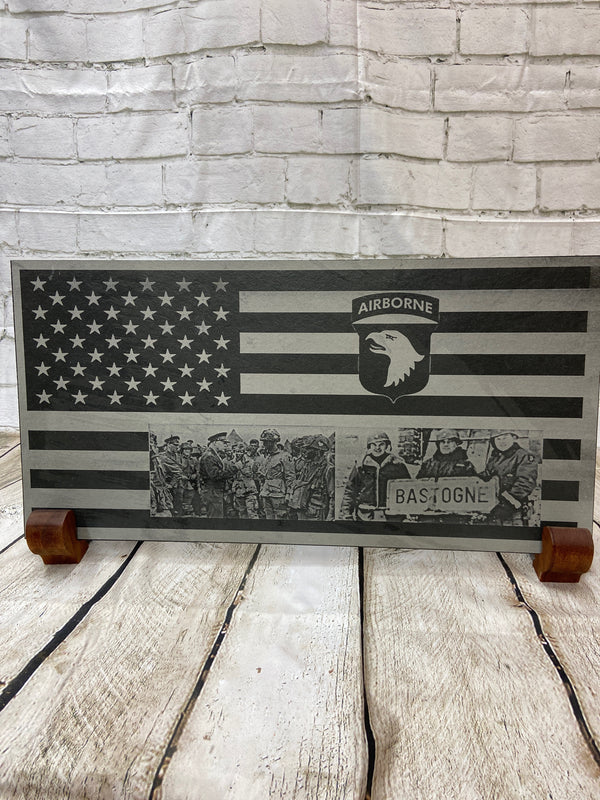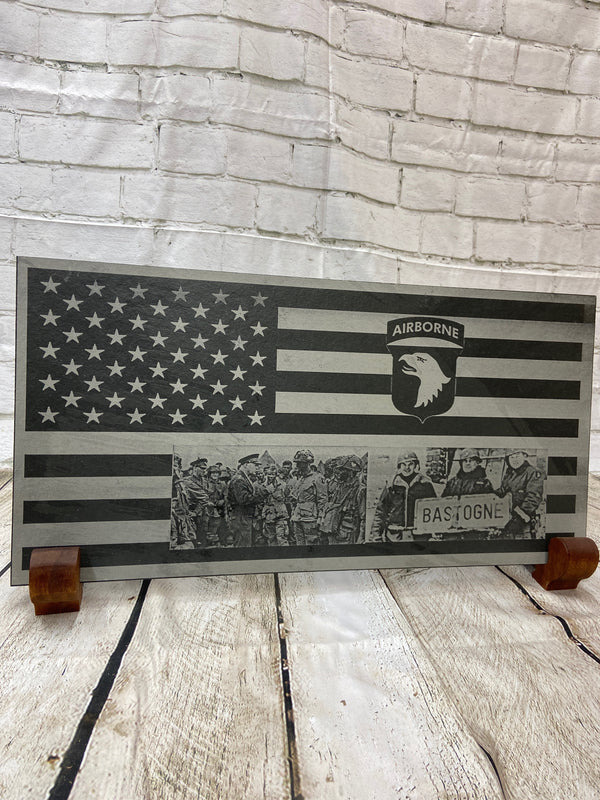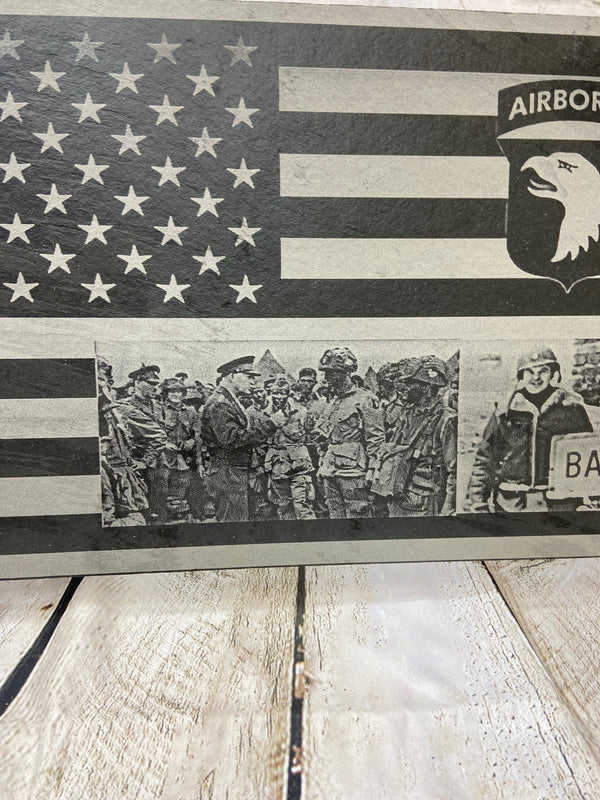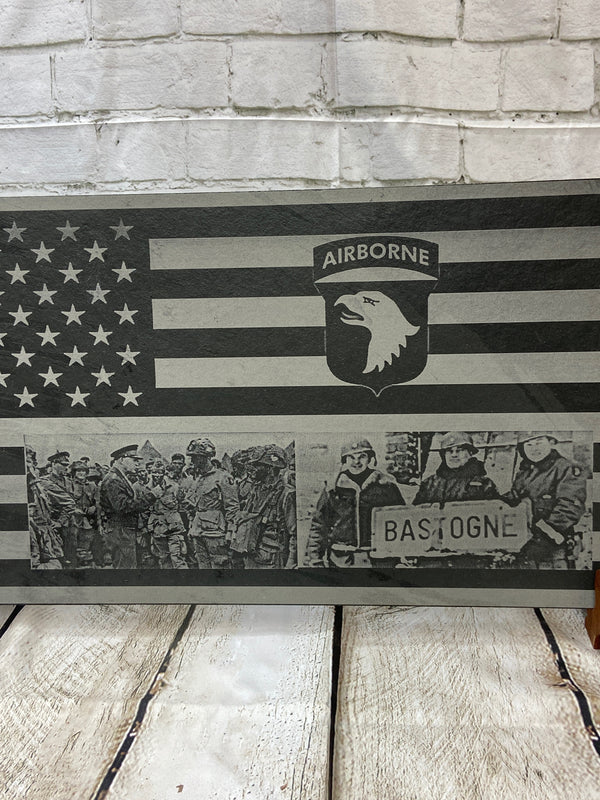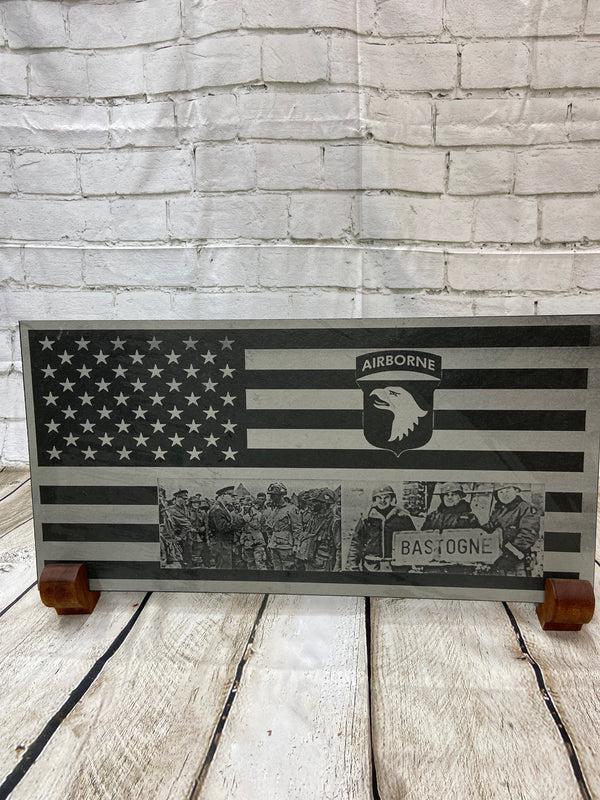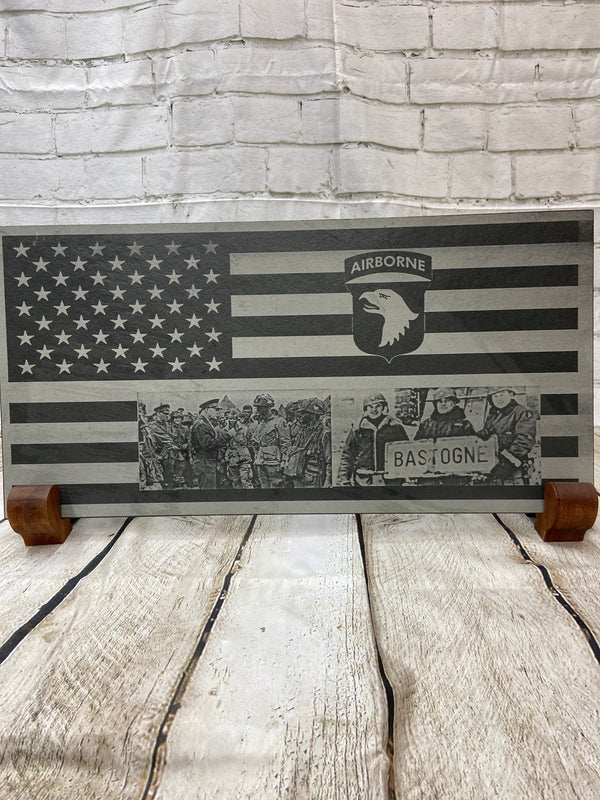 101st Airborne Division Bastogne US Flag
Laser engraved 24 inches x 12 inches black slate of the 101st ABN Div with two scenes from WW2 on the US flag. Comes with wooden stand of choice ash, cherry, maple, mahogany, oak or walnut. Can be fully framed for additional cost of $200. Shipping is free in the United States. 
The history of the 101st Airborne Division was activated began on 16 August 1942 at Camp Claiborne, Louisiana. Its first commander, Major General William C. Lee, observed that "the 101st" has no history, but has a Rendezvous with Destiny." Time and time again, the 101st has kept that rendezvous and in so doing, acquired a proud history.
The 101st moved to Fort Bragg, North Carolina, for training and successfully demonstrated its readiness during the Tennessee maneuvers of 1943. Embarking from Camp Shanks, New York in September, the 101st continued training in England until D-day, 6 June 1944, when its pathfinders became the first Americans to set foot in occupied France.
Following them, the Screaming Eagles parachuted into Normandy and cleared the way for the 1st and 4th Infantry Divisions at Omaha and Utah beaches. After 33 days of continuous fighting, including a bitter battle for the town of Carentan, the 101st returned to England to prepare for future airborne operations. On 17 September 1944, the 101st jumped into Holland during Operation "Market Garden". Holding a narrow corridor 16 miles long, through enemy territory, from Eindhoven to Grave, the division fought against heavy odds for ten days. The division then continued its role in the liberation of Holland, spending a total of 72 days in combat.
In November 1944, the 101st returned to France for a well-deserved rest, only to be called to action again in the Battle of the Bulge. While defending the critical transportation hub of Bastogne, Belgium, the 101st was surrounded by advancing enemy forces who demanded immediate surrender. The acting division commander, Brigadier General Anthony C. McAuliffe, made history with his classic reply, "Nuts!" The siege was broken on 26 December 1944, but the fighting continued until 18 January 1945.
After moving through Alsace and the Ruhr Valley, the 101st captured Hitler's mountain retreat at Berchtesgaden. On 30 November 1945, eight months after the German surrender, the Screaming Eagles were inactivated.
The end of World War II marked the beginning of an intermittent existence for the 101st – several inactivations occurred during the next two decades. Official reactivation ceremonies were held on 21 September 1956, making the 101st the Army's first Pentomic division and part of United States Strategic Response Force. This being just a small piece of the division's long history with "It's Next Rendezvous with Destiny."